Unique architecture hidden in the heart of
nature.
Panorama Bachledka
Food and drinks
offer
Try the specialities of Ždiar and Zamagurie.
Every day we prepare fresh goodies from local ingredients. Is there any better taste than fresh fruits straight from the forest? Any better taste than fresh local meat? Products prepared from sheep milk and cows grazing on the mountain meadows?  Come and taste all these topped with herbs sprinkled with morning dew and touched by the mountain sun.
Welcome to Bachledka.
Panorama Bachledka
Unique architecture hidden in the heart of nature
PANORAMA Bachledka is the work of the well-known architectural studio Compass The studio decided to position Panorama Bachledka in its surrounding in a way so as not to interfere with the magnificent view of the Belianske Tatras, from the top of Spišská Magura. Instead of designing a multi-storey building, the architects decided to hide the building into a slope, cover it with a green walkable roof and offer a view of the Tatra nature by visitors from every place in the restaurant and café.
The main idea behind the design was to provide a view of the Belianske Tatras from all key places: from the top of the hill, from within the restaurant and from the outside terraces.

At the same time, we wanted to create exterior and interior spaces that one would not perceive as a building but as part of the surroundings.
Panorama Bachledka
With respect for traditions, with love for nature
Nature is our greatest inspiration, a place to relax and to experience important moments
with family and friends.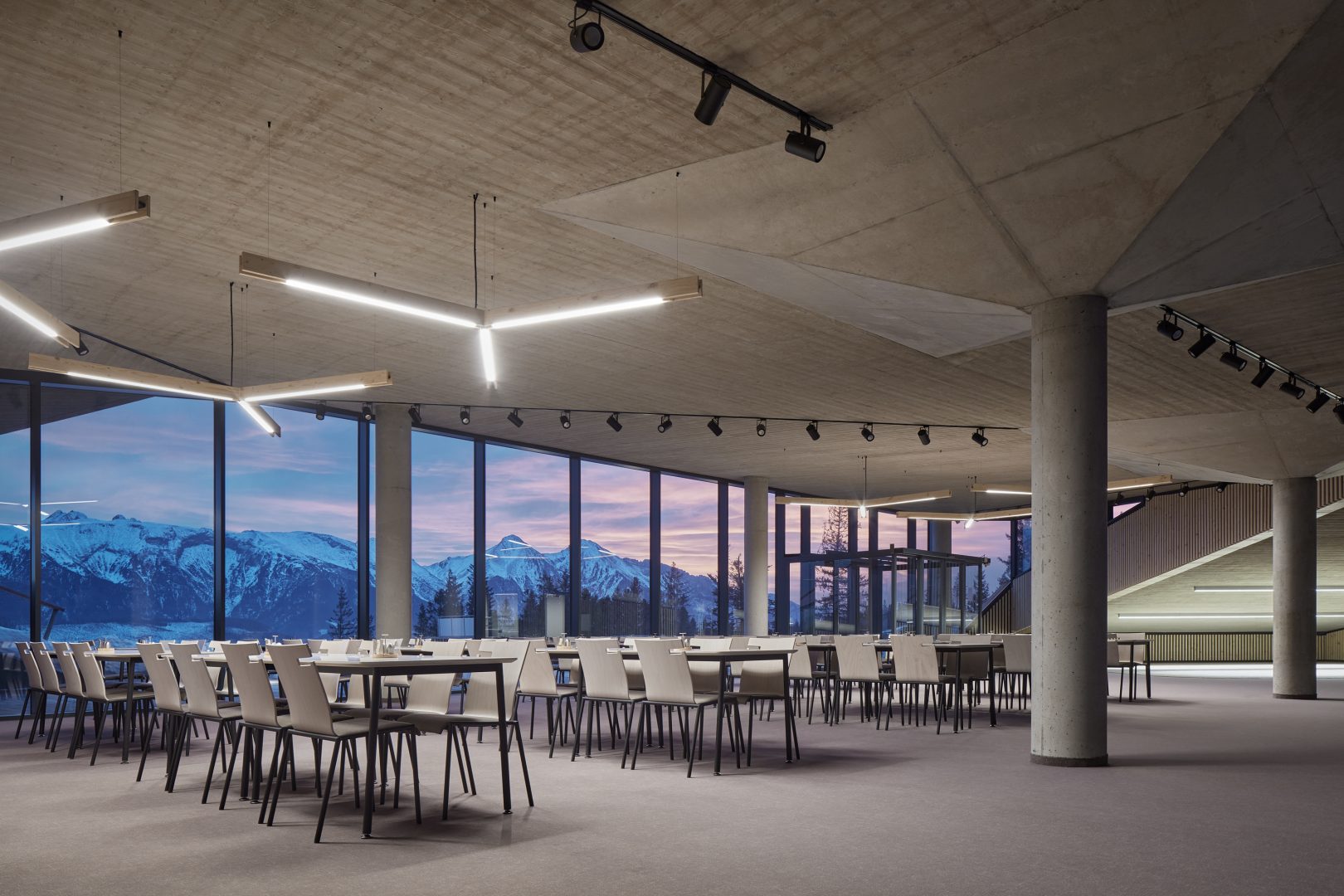 Panorama Bachledka
PANORAMA Bachledka features
The panoramic self-service restaurant offers 200 seats inside and a sun terrace with 300 more seats. The restaurant is wheelchair-accessible with the facilities for children and families.
There is also a café-bar, a souvenir shop, a lounge and an environmental classroom.
Panorama Bachledka
Everything
for children and families
We know how difficult a trip with small children can be.
In PANORAMA Bachledka we thought about every detail that could make your family trip easier. In the restaurant you will find children chairs, a children's corner inspired by nature, a changing place, baby holders in toilets and other amenities that will make your visit with children more pleasant. Our staff will be happy to warm up your baby food, so do not hesitate and ask them. Near the restaurant you will find playgrounds and various attractions for the whole family.

Panorama Bachledka
Ecology
In PANORAMA Bachledka we strive to achieve the highest ecological standard. We will be grateful if you not only understand us, but even support us.
 THAT IS WHY:
We do not use plastic straws.
We do not use disposable plastic packaging. If you want a coffee or water to go, you will find several cups, jars and bottles for reuse.
We separate waste. In the restaurant and throughout the complex you will find waste bins for sorted waste. We kindly ask you to separate the waste properly.
We buy from local producers. Most of our suppliers are local, so we do not burden nature with CO2 caused by transport of goods from distant places.
We consume as little energy as possible. The heat produced by cooling is used for heating. Our buildings were built from materials with good insulating ability and suitably positioned, so that our heating consumption is as little as possible.
We save water and paper. When you visit the toilets, you will notice not only the water-saving faucet, but also the urinals working without water. Dry your hands comfortably with an intense stream of air as we do not use paper towels.
Panorama Bachledka
Experience that will stay with you forever- marriage, celebration, company party or conference in Restaurat PANORAMA
Do you plan any event, family celebration, conference, company party or  event Your marriage? 👰🏻🤵🏼 But you still didn´t find the right place? It´s not a problem anymore. We offer you our new and beautiful restaurant PANORAMA with the capacity of 220 persons. Right in the middle of the nature with the view of Belianske Tatras. We wish you the best and unforgettable marriage, party, conference or any event you are planning. Let´s make it special! All the offers you can check below (slovak language)
Konferencie, školenia, kongresy, workshopy
Opening hours
| | |
| --- | --- |
| April – May | 9.00 AM – 5:00 PM |
| June – September | 9.00 AM – 7:00 PM |
| October | 9.00 AM – 5:00 PM |
| November – March | 9.00 AM – 4:00 PM |
PANORAMA Bachledka
PANORAMA Bachledka can be found at the Gondola Bachledka cablecar exit at the Tree Tops Walkway. It is accessible by cablecar from Bachledova Valley or by an hour-long walking tour from Bachledova Valley, Jezersko or Malá Franková.